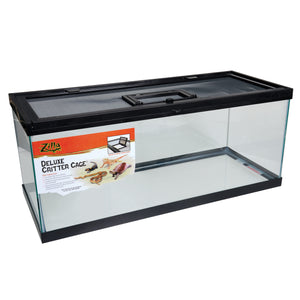 Create a tropical paradise or a desert oasis for your critters to enjoy!


The Zilla Deluxe Critter Cage is a premium glass enclosure that provides a safe and comfortable home for your reptilian pets. Perfect for desert and tropical setups, this versatile terrarium offers maximum accessibility, security, and peace of mind. It comes loaded with value-adding designed to simplify and improve your reptile-keeping experience!

Whether you're setting up a new reptile habitat or maintaining an existing one, the Deluxe Critter Cage is a pleasure to work with. It features a removable screen top that slides smoothly into its frame, locking into place with an audible "snap". An integrated feeding door makes mealtime a breeze, and an included locking pin prevents daring animal escapes.

As each reptile species requires specific environmental conditions to thrive, the Zilla Deluxe Critter Cage features breakouts and openings to accommodate a wide range of support equipment (e.g. lighting and heating systems). These spaces are designed for compatibility with the most popular hang-on water bottles and electrical accessory cords.

Please Note: Zilla Deluxe Critter Cages are designed exclusively for use with terrestrial reptile species, and are not suitable for aquatic or semi-aquatic setups. Do not fill with water.