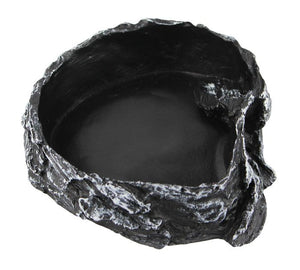 PANGEA MEDIUM ROCK BOWL
Perfect for food or water
Made out of solid resin construction
Safe & non-toxic
The Pangea Rock Bowl is a natural-looking resin water bowl for food or water. The wide base and weighty design keep it put on the bottom of your terrarium where it belongs. The dish has a ledge on the inside of the bowl for an easy out if your reptile decides to take a bath. 
The Medium Rock Bowl is great for those medium-sized reptiles. Geckos only need a small cup to eat out of, so this one is made for the larger pets like bearded dragons and small snakes. The bowl is made of solid resin to withstand the sharp claws and weight of these larger creatures.
The Pangea Rock bowl is made from non-toxic plastic, so you don't have to worry about it harboring bacteria. It is not uncommon for animals to soil their water bowl. If that happens just pull it out, scrub it with soap and water, give it a good rising and you are back in business. 
Dimensions: ~5" diameter x 1.5" height