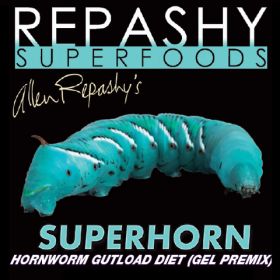 SuperHorn
Hornworm Gutload Diet (Gel Premix)
Our High Calcium, Vitamin Fortified, Antibiotic Free, Hornworm Diet for maximizing the nutritional value of Manduca sexta Larvae as feeders.
INGREDIENTS: Soy Flour, Stabilized Rice Bran, Corn Meal, Cellulose, Calcium Carbonate, Brewer's Dried Yeast, Cane Molasses,  Dried Seaweed Meal, Lecithin, Locust Bean Gum, Soy Phytosterols, Dried Kelp, Dried Watermelon, Rose Hips,  Hibiscus Flower, Marigold Flower, Paprika, Turmeric, Citric Acid, Potassium Citrate, Salt, Calcium Propionate, Methylparaben and Potassium Sorbate (as preservatives), Magnesium Amino Acid Chelate, Zinc Methionine Hydroxy Analogue Chelate, Manganese Methionine Hydroxy Analogue Chelate, Copper Methionine Hydroxy Analogue Chelate. Vitamins: (Vitamin A Supplement, Vitamin D3 Supplement, Calcium L-Ascorbyl-2-Monophosphate, Vitamin E Supplement, Niacin, Beta Carotene, Pantothenic Acid, Riboflavin, Pyridoxine Hydrochloride, Thiamine Mononitrate, Folic Acid, Biotin, Vitamin B-12 Supplement, Menadione Sodium Bisulfite Complex).
Guaranteed Analysis: Crude Protein min. 20%, Crude Fat min. 4.5%, Crude Fiber max. 10%, Moisture max. 8%, Ash max. 15%, Calcium min. 3.5%.
DIRECTIONS: Mix one part powder into 2-2.5 parts water and stir until blended. Microwave until it starts to boil, remove and stir. Alternatively, bring water to a boil on stove, remove from heat, and stir in powder. Let container cool, or immediately pour into a storage container or mold, and let sit at room temp until firm. The finished gel can be cut into cubes, shredded, or used as a whole slab. Whatever is not used immediately should be treated as fresh food. It can be stored vented in refrigerator for up to three weeks. Do NOT use more than three parts water or excessive condensation can occur if used in culture cups. 
Repashy is proud to announce the anticipated release of our new Hornworm Gutload Diet "SuperHorn"

When Repashy decided to expand its popular insect gel diet line by adding a Hornworm formula,  the first thing we did was look at what was on the market and how to make it better. The first thing we noticed was that there wasn't a legally labeled product on the market that even listed the basic ingredients, nor a Guaranteed Analysis. We also realize that many of the published and popular recipes include the use of antibiotics and formaldehyde as antimicrobials and preservatives, which may be great for research, but is completely unacceptable in our opinion, for insects used as feeders.  Like all Repashy formulas, SuperHorn is manufactured in our own FDA Registered, FSMA compliant, food manufacturing facility using strict manufacturing practices and full raw material and finished goods traceability.
We conducted research on Hornworm culture by reviewing scores of scientific publications, and lab analyzing commercial diets. We then raised cultures in side-by-side comparisons using published recipes, commercially available formulas, and different beta versions of our own formula over the course of two years.

One thing that stood out to us was that the available diets, while sufficient for efficiently growing worms, they did nothing to focus on improving the nutritional value of them for use as feeders.  At Repashy, we focused on trying to improve the poor calcium levels typical to hornworms by developing a high calcium formula that did not affect growth or survival. We also fortified it with vitamins, carotenoids, trace minerals, and isolated proteins, in order to further maximize nutritional value.
Repashy has used it's years of experience with plant-based gelling agents, to make a formula that is easy to mix, requires less heat to gel, and has better stability than other products.
We developed this formula to work equally well in the humid conditions of a premade culture cup and the open air conditions of an open top tub used to raise purchased eggs or young larvae, both without spoiling, molding, or desiccating. Hornworms have always been a good feeder option but have not, and are still not recommended to be used as an exclusive diet because of their high fat content. Using Repashy SuperHorn will guarantee that you are getting the most out of your Hornworm feeders by improving nutritional value, survival, and ease of use.
Refrigeration will extend freshness
NOT FOR HUMAN CONSUMPTION