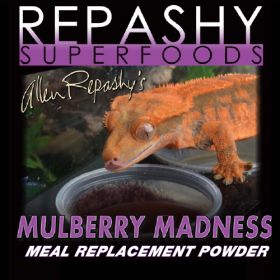 Repashy Seasonal Blend "Mulberry Madness"
This was our first seasonal blend /Summer Blend, which will is now available for sale called "Mulberry Madness". It uses powdered Black Mulberries as a primary ingredient, which is rich in fiber, antioxidants, phytonutrients, zeaxanthin, resveratrol, anthocyanins, lutein, and flavonoids. Mulberry madness is a unique formula because Black Mulberries are high in anthocyanins, which give them their dark color, that the mixed diet has an almost burgundy/purple color to it. It also has a very pleasant and unique aroma. It is a very smooth blend and is sure to be a hit with geckos across the globe.
Mulberry Madness will be manufactured in a one-time limited production run, and will be available until August  (if it isn't sold out much sooner), when we switch to our "Fall Blend", which may or may not be another gecko formula. Through the summer season, we will be looking for customer input on what the next Seasonal Blend should be. We will be using our Repashy Social media platforms (Facebook and Instagram) to run giveaways, contests, and collaborate with our followers on what fun formulas they would like to see next.
We hope our customers and their critters will enjoy this exciting new venture and look forward to taking feedback and suggestions on developing new and groundbreaking formulate.
Crested Gecko Mulberry Madness 
MEAL REPLACEMENT POWDER
Our Limited Edition, Seasonal Blend Gecko MRP.  Featuring Mulberry and Banana as the Main Sources of Fruit.
DIRECTIONS: Mix one part MRP with two parts water by volume as a starting point. The mixture may appear watery at first, but will thicken after several minutes. If separation occurs over time, use less water. As fed, MRP should have the consistency of ketchup. Feed geckos in the evening and remove uneaten MRP within 24 hours.
INGREDIENTS:  Dried Banana, Whey Protein Isolate, Dried Black Mulberry Fruit, Black Soldier Fly Larvae Meal, Whole Dried Egg, Dried Date, Molasses, Coconut Meal, Calcium Carbonate, Dicalcium Phosphate, Lecithin, Taurine, Dried Kelp, Dried Watermelon, Citric Acid, Salt, Calcium Propionate and Potassium Sorbate (as preservatives), Natural Flavor, Magnesium Amino Acid Chelate, Zinc Methionine Hydroxy Analogue Chelate, Manganese Methionine HydroxyAnalogue Chelate, Copper Methionine Hydroxy Analogue Chelate. Vitamins: (Vitamin A Supplement, Vitamin D3 Supplement, Calcium L-Ascorbyl-2-Monophosphate, Vitamin E Supplement, Niacin, Beta Carotene, Pantothenic Acid, Riboflavin, Pyridoxine Hydrochloride, Thiamine Mononitrate, Folic Acid, Biotin, Vitamin B-12 Supplement, Menadione Sodium Bisulfite Complex).
Guaranteed Analysis: Crude Protein min. 20%, Crude Fat min. 5%, Crude Fiber max. 2.5%, Moisture max. 8%, Ash max. 7%, Calcium min. 1.3%.