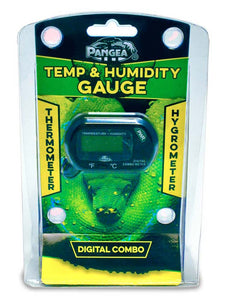 PANGEA TEMP & HUMIDITY GAUGE
Dual Purpose Temperature & Humidity Gauge
Free 1 year replacement warranty
36" temperature & humidity probes
Digital LCD Screen
Measures in Fahrenheit or Celsius
Battery included
The Pangea Temp & Humidity Gauge is a small yet very accurate and reliable measuring device. Many animals require a consistent temperature and humidity to thrive. This device provides readings for both and is a must have for any serious reptile keeper.
The easy to read LCD display is perfect for quick access to the temp & humidity information. You can easily switch from Fahrenheit to Celsius with the flip of a switch. Hold down the power button for 5 seconds to turn the screen off to conserve battery life. 
The long 36" probes allow you to easily move from the warm end of the cage to the cool end. The Gauge and the probes each have suction cups so you can mount the device & probes on any smooth surface. Make sure to keep the probes mounted away from direct water spray for most accurate readings. 
Comes with a 1 year free replacement warranty. Includes a LR44 1.5v battery. And one dollop of love. (dollops are not a precise unit of measurement and quantities may vary)