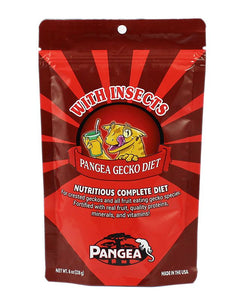 PANGEA FRUIT MIX WITH INSECTS
One of the newest addition to our line up of complete gecko diet mixes. We set out to create a crested gecko food that incorporates insects as one of the main ingredients and generates an enthusiastic feeding response. I think we have succeeded, in fact I'd say this is one of our tastiest and most widely accepted gecko food formulas so far! The insects we use in the food are North American farm raised crickets and black soldier fly larvae. Researched, developed, and tested for two years here at Pangea on one of the largest collections of geckos in the world. All of our ingredients are sourced form USA manufacturers and our food is made by us in the United States.
Highly palatable
Includes crickets and black soldier fly larvae
Fortified with natural fruits, high quality proteins, vitamins, and minerals
Our most popular crested gecko food
None of our ingredients are from China
This Pangea Fruit Mix Complete Gecko Diet food is formulated to contain the lowest levels of oxalates and other anti-nutrients to ensure optimal calcium absorption for strong bones and great egg production. Our combination of protein sources delivers an amino acid profile second to none.
Offering live insect prey once or twice a week is recommended to keep your geckos active and stimulated. Breeders will also benefit from the added fats from live feedings. Or consider our breeder formula for maximum breeder performance.
WE ARE SO SURE YOUR GECKOS WILL LOVE IT, WE OFFER A
RISK FREE TRIAL

.
BUY ANY SIZE PANGEA GECKO FOOD WITH INSECTS YOU WANT AND IF YOUR GECKOS DON'T LOVE IT, WE'LL BUY IT BACK!

Directions: Mix 1 part powder to 2 parts water, adjust to achieve desired consistency. Prepared mix is good for up to 7 days if refrigerated. Open dry mix is good for 6 months at room temperature or 1 year if refrigerated.  Unopened shelf life is 18 months. Occasional insect feedings are recommended but not required.
Note: When offering any complete diet without supplemental insect feedings, fresh food must be offered daily even though much of it will not be eaten.

Life Stages: Growth (fed daily or alternated with live food) Maintenance (fed 3-5 times per week) Breeding (fed daily or alternated with live food).

Ingredients: Dried Banana, Micellar Casein, Dried Apricot, Insect Meal, Dried Papaya, Rice Bran, Calcium Carbonate, Di-Calcium Phosphate, Dried Coconut, Vegetable Oil, Ground Flaxseed, Lecithin, Algae Meal, Potassium Sorbate, Xanthan Gum, Dried Aspergilus niger fermentation extract, Dried Aspergilus oryzae fermentation extract, Dried Bifidobacterium bifidum fermentation extract, Dried Lactobacillus acidophilus fermentation extract, Mixed Tocopherols, Choline Chloride, Sodium Chloride, Ferrous Fumurate, Beta Carotene, Inositol, Niacin, Kelp Meal, Ascorbic Acid, Cholecalciferol (D3) Riboflavin, Thiamine mononitrate, Vitamin A, Pyridoxine Hydrochloride, Biotin, Folic Acid, Sulfur, Zinc Oxide, Vitamin B12