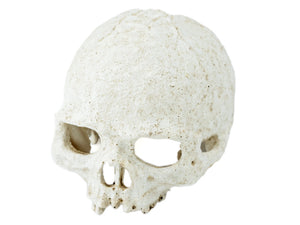 PANGEA HUMAN SKULL CAVE
Realistic Aesthetic!
Provides great hide space
Looks great in a terrarium
Safe and non-toxic resin.
Pangea Human Skull Cave is a gnarly reptile hide shaped like a human skull. Let your geckos crawl on or in it. Adds a fun aesthetic to your terrarium. It has eye holes and a skull fracture hole on the top to allow for animals to crawl inside and use it as a cave. This provides a secure hide for reptiles and amphibians. Suitable for lizards, snakes, spiders, scorpions, centipedes, frogs, turtles, gecko, Iguana, and other small pets
Nearly all reptiles require some form of cave or hide. They need to get out of the heat to regulate their body temperature. But also just need to de-stress from what's going on around them. So a hide is a must-have decor item for any terrarium. 
The Pangea Skull cave is made from non-toxic cast resin. So, you can be sure your pet is safe. The skull is also submersible so your aquatic pets can also have a fun place to swim around in. 
Dimensions: 5.5" x 4.5" x 4.5" (L x W x H)