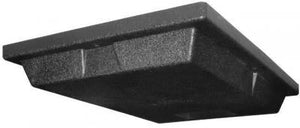 Vivarium Electronics has designed this heat panel specifically around the needs of reptile users.

For Radiant Panels to work at their best we very strongly recommend a proportional thermostat.

Some of the features include:
Can Not burn your animal-even if they touch it!

Made from high impact glass reinforced Noryl

Detachable cord for easy installation

Attractive, sealed housing for easy cleaning and disinfecting

Ultra easy mounting-Stainless Steel screws included

Low profile-under 2" thick

Thermal fuse protected

6 foot power cord

Made in USA

28 watt panel measures approximately 12 1/8" "x 9 1/4" "x1.75" (overall dimensions).