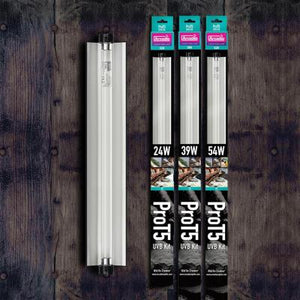 ProT5 is a highly adaptable lighting kit with high quality internal electronics, a high effective but removable reflector, power cable, fittings kit, free link cable and choice of Arcadia Reptile HO-T5 UV-B lamp.

** This kit INCLUDES the Arcadia 54watt T5 Bulb of your choice!
ProT5 uses the very finest electrical components to ensure safe running and long lamp life. Each bar has inbuilt over-voltage, over current, over heating and short circuit protection. ProT5 is Teflon free and free from any reflector coatings that absorb UV.
Link up to 10 Kits

Choice of UV-B T5 lamp included, 14% Dragon, 12% Desert or 6% Forest

Easy to fit inside vivariums or over mesh

Lamps made in Germany by the worlds experts

Flicker free (T5)